Boko Haram has released a video showing fifty of the Chibok schoolgirls who were kidnapped two years ago.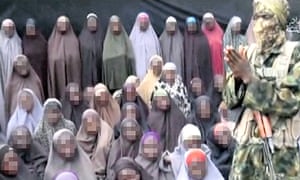 The video shows a man standing in front of the girls wearing a face mask and a turban and armed with a gun, demanding the Nigerian government for the release of Boko Haram fighters in return for the Chibok captives. "They should know that their children are still in our hands," says the fighter in the video, which was posted on YouTube. "Don't waste time – release our members in custody and we will release the girls."
Bring Back Our Girls spokesman Abubakar Abdullahi confirmed that up to 10 girls from the video were indeed from Chibok.
In April 2014, 276 schoolchildren were taken from their dormitories at the Government Girls Secondary School in Chibok. 57 of them escaped, while 217 are still missing.
Boko Haram has been active for seven years in north-eastern Nigeria, and the group's insurgency has led to the deaths of over 20,000 people and displaced over 2.3 million people.
Nigerian President Muhammadu Buhari vowed to take down Boko Haram when he won the elections in 2015. Buhari said in December 2015 that Nigeria has "technically won the war" against Boko Haram after the army took back large amounts of territory from the militant group. However, the government has yet to find the schoolgirls, suggesting the group's lingering presence in the region.